Another 2-1 night…nice. But another heart-breaking loss from the Hawks failing to cover…nice. So close to the first 3-0 night but we've battled back through the impossible Vegas spreads to .500 betting. 8-8 on the playoffs so far, but now favorites are on the road and things get a little more interesting…
#2 Cavaliers at #7 Pacers (7:00 PM, TNT)
Opening Line: CLE -2.5, Opening Over/Under: 211.5
So it appears as though LeBron and the Cavs can not close out 8-point spreads. Whether it's Lance Stephenson's layup or lacksidasical defense down the stretch, they just don't cover those games. But it's the playoffs and the best basketball player on the planet is in Ring Chaser Mode. JR Smith seemed hobbled in Game Two, so either Kyle Korver or Iman Shumpert may have to provide a spark off the bench. Or you know that wonder kid Kyrie Irving aka Uncle Drew.
Right now, the Cavs are above 60% of spread tickets, but the line has swung a half point in favor of the Pacers, to Cavs -2. Doesn't make too much sense, maybe some sharp money on Indiana. LeBron has not lost a first round playoff game since rejoining the Cavaliers. 8-0 in the 1st round the past two seasons. Does that trend continue or is he due for a loss? Never bet against LeBron in Ring Chaser Mode, even it means going against rule #1: Fade the Public.
LUCKY LUCIANO: CAVALIERS -2
#3 Raptors at #6 Bucks (8:00 PM, NBATV)
Opening Line: MIL -1, Opening Over/Under: 196.5
Another great series in the works as the up-and-coming Bucks try to take down an Eastern Conference power. Greg Monroe has been a pleasant surprise for Milwaukee, dominating the paint against Jonas Valanciunas and Serge Ibaka. If Kyle Lowry and DeMar DeRozan are on their game, someone other than Giannis has to step up for the Bucks for them to keep hanging in this series. Otherwise, they'll have to rely on their athletic defense which has not been too bad of a strategy.
The Bradley Center should be lit, making me think that the Bucks are going to jump out to an early lead. The Bucks are receiving nearly 60% of spread tickets, and the line has since moved to -1.5. I think the play here in such a low spread game would be to go with the Bucks 1st half line. Milwaukee essentially has to beat Toronto by 1-point at the end of the 1st half to cover. Just like Nick Cage, we're going to ride…
LUCKY LUCIANO: BUCKS 1H -.5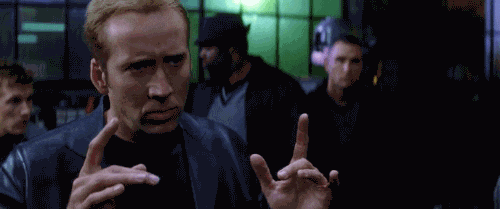 #2 Spurs at #7 Grizzlies (9:30 PM, TNT)
Opening Line: SA -3, Opening Over/Under: 185.5
Despite the Spurs only winning by 14 in Game Two, Memphis was down by 26 points at one point in the 1st half. Popovich's defensive scheme is working flawlessly so far this series. It is doing exactly what he wants: taking out the opposing player's "catalyst". Whether it is Mike Conley in Game One (13 points, 35.7 field goal %) or Marc Gasol Game Two (12 points, 27 field goal %). A team with essentially two primary scorers doesn't stand a chance when the Spurs' defense is clicking like this.
Previously mentioned, the Spurs and Grizz met last year in this same scenario and the Spurs won by an average of average of 22 points. There was one close game game, but the Spurs managed to pull it off. I think this could be that game for the Grizzlies. They're pissed and are going to be playing with a ton of passion.
Conley is also one of the most underrated point guards in the NBA and is due for a big night. The spread tickets are ALL over the Spurs, close to 75%. The line has since jumped to San Antonio -4 on most books. The Spurs might win, but I think that the Grizz will finally keep it close. Pure #FadeThePublic bet here.
LUCKY LUCIANO: GRIZZLIES +4